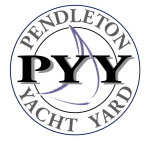 Welcome to Pendleton Yacht Yard
Pendleton Yacht Yard is located on Ames Cove, Islesboro, Maine. Islesboro is an island in Penobscot Bay, and is served by a state-operated ferry service running out of Lincolnville Beach, 6 miles from Camden and 12 miles from Belfast.

From a long line of seafarers, and on family land dating from the settling of Dark Harbor over two centuries ago, Pendleton Yacht Yard is proud to continue the Down east tradition for those at home and away.

We offer:
· Ship chandlery and a fuel dock
· Hauling and storage
· Repair, Restoration and refinishing
· Docks, floats and moorings
· Mechanical and Technical services
· New construction
Featured Boat
41' Bunker & Ellis Soft Top Picnic Boat
1953 US$ 170,000

The renowned Raymond Bunker and Ralph Ellis built 58 boats from the 50's through the late 70's. They built boats in many configurations, but mostly they first defined the name "picnic boat" with their beautiful soft-top cruisers. TARTAN, built in 1953, is a very handsome example of this classic "look". In addition to maximum annual maintenance, this two owner yacht has had much significant additional work completed recently. The boat is in the most excellent condition of any Bunker & Ellis on the market today, painted and finished-out in every nook, cranny and corner. She is a real head-turner on the water or at the docks. Call us for more informaion on this classic picnic boat.