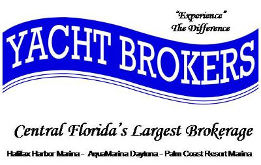 Welcome to Yacht Brokers, Inc.
Central Floridas Largest Yacht Brokerage, Visit one of our three Centrally located Offices or Click here to visit our Web-Site
Yacht Brokers Halifax Harbor
Located on the Intracoastal Waterway in downtown Daytona Beach is conveniently located in the Halifax Marina Harbor Master's office. High traffic Show Dock slips available. Full service brokerage,expert and experienced brokers, friendly staff. Whether you are buying or selling, please contact one of our FULLY LICENSED and EXPERIENCED BROKERS at (386) 255-0744 WE WANT TO SELL YOUR BOAT! Yacht Brokers Halifax Harbor
450 Basin Street, Daytona Beach, FL 32114,
Office: (386)-255-0744, Email: HH@DaytonaYachts.com

Yacht Brokers of Palm Coast
Located at mile marker 803 on the Intracoastal Waterway between St. Augustine and Daytona Beach, this first class facility offers excellent exposure to quality clientele from around the world. Convenient to Orlando/Daytona/Jacksonville. Please contact Meg Goncalves for personalized services, whether buying or selling.
Yacht Brokers of Palm Coast
200 Clubhouse Drive, Palm Coast FL, 32137
Office: 386-447-1977, Email:ybipc@bellsouth.net
Yacht Brokers of Daytona
Located at mile marker 831 on the Intracoastal Waterway, this facility has been a traditional yachtsman's haven since 1903. We offer a high traffic marina along with a full service repair facility to handle all aspects of the buying and selling procedures. Joe Egeberg represents a lifetime of experience in the boating business and is ready to serve you. Inquire about "free dockage" for qualified listings. Now, have a look at our boats for sale then give us a call. Yacht Brokers of Daytona
645 South Beach Street, Daytona Beach, FL 32114
Office: 386-253-6266, Email:ybinc@bellsouth.net

Featured Boat
47' Catalina 470
2003 US$ 239,500

Sail On, Sail On, Sailor

Quinny B is a Bahama, Florida Keys and ICW friendly yacht with a 63.4' mast height. Shoal draft wing keel 5'9", three AC units and an 8kw Fischer Panda generator (new in 2015)

The challenges of extended offshore cruising have been met with a display of strength, innovative design, and engineering that clearly define Catalina 470 "Quinny B", the flagship of this USA manufacturer.

At every turn, equipment and systems have been engineered to the most demanding blue water specifications: A unique, structural fiberglass grid is bonded to the hull and provides both strength for the hull and a massive foundation for securing bulkheads, equipment, engine, and tanks. The generous deck beam is carried well aft providing for an expansive cockpit with twin steering stations and large master stateroom below.

The galley is outfitted with Sea Frost separate refrigerator and freezer units and provides an enormous amount of space. The luxurious main salon offers deep banquet seating and the nav station contains all necessary readouts. For easy maintenance, centrally located equipment clusters offer easy access to all pumps, valves, and filters.

The first ever articulated traveler rotates fore and aft, spreading the load evenly over bearing surfaces for smoother main sheet handling and more precise trimming. Custom cheek blocks and raised genoa tracks guide sheets straight aft to large, powerful winches.



Yacht Brokers, Inc.
Yacht Brokers, Inc. of Daytona
645 S. Beach St.
Daytona Beach, FL 32114, United States
Toll-free 877-322-1724
Tel (386) 253-6266
Fax (386) 255-2222
Email Us

Yacht Brokers Halifax Harbor
450 Basin Street
Daytona Beach, FL 32114, United States
Toll-free 877-322-1728
Tel (386) 255-0744
Fax (386) 253-8842
Email Us

http://www.yachtworld.com/palmcoastyachts
---