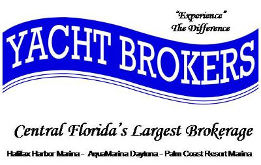 Welcome to Yacht Brokers, Inc.
Central Floridas Largest Yacht Brokerage, Visit one of our three Centrally located Offices or Click here to visit our Web-Site
Yacht Brokers Halifax Harbor
Located on the Intracoastal Waterway in downtown Daytona Beach is conveniently located in the Halifax Marina Harbor Master's office. High traffic Show Dock slips available. Full service brokerage,expert and experienced brokers, friendly staff. Whether you are buying or selling, please contact one of our FULLY LICENSED and EXPERIENCED BROKERS at (386) 255-0744 WE WANT TO SELL YOUR BOAT! Yacht Brokers Halifax Harbor
450 Basin Street, Daytona Beach, FL 32114,
Office: (386)-255-0744, Email: HH@DaytonaYachts.com

Yacht Brokers of Palm Coast
Located at mile marker 803 on the Intracoastal Waterway between St. Augustine and Daytona Beach, this first class facility offers excellent exposure to quality clientele from around the world. Convenient to Orlando/Daytona/Jacksonville. Please contact Meg Goncalves for personalized services, whether buying or selling.
Yacht Brokers of Palm Coast
200 Clubhouse Drive, Palm Coast FL, 32137
Office: 386-447-1977, Email:ybipc@bellsouth.net
Yacht Brokers of Daytona
Located at mile marker 831 on the Intracoastal Waterway, this facility has been a traditional yachtsman's haven since 1903. We offer a high traffic marina along with a full service repair facility to handle all aspects of the buying and selling procedures. Joe Egeberg represents a lifetime of experience in the boating business and is ready to serve you. Inquire about "free dockage" for qualified listings. Now, have a look at our boats for sale then give us a call. Yacht Brokers of Daytona
645 South Beach Street, Daytona Beach, FL 32114
Office: 386-253-6266, Email:ybinc@bellsouth.net

Featured Boat
50' Garren Blakely Trawler 50 Trawler
1976 US$ 159,000

UNBELIEVABLY EQUIPPED TRAWLER JUST REDUCED TO

$159,000!!!!

This beautiful proven coastal cruiser has just returned from Guatemala. She cruised from Washington to Alaska, Vancouver BC, and through the Panama Canal,she is currently in Daytona Beach, Florida. Professionally fitted with everything needed for extended cruising, in luxury, without shore-side support.

Virtual Tour Available!

http://www.vrguild.net/c/star.pl?Q=1609281530057595



Yacht Brokers, Inc.
Yacht Brokers, Inc. of Daytona
645 S. Beach St.
Daytona Beach, FL 32114, United States
Toll-free 877-322-1724
Tel (386) 253-6266
Fax (386) 255-2222
Email Us

Yacht Brokers Halifax Harbor
450 Basin Street
Daytona Beach, FL 32114, United States
Toll-free 877-322-1728
Tel (386) 255-0744
Fax (386) 253-8842
Email Us

http://www.yachtworld.com/palmcoastyachts
---