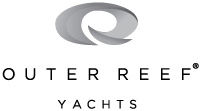 Welcome to Outer Reef Yachts
As a leading manufacturer of long range motoryachts, Outer Reef Yachts combine excellence in building robust, blue-water yachts while offering luxury, efficiency, and technological ingenuity. Outer Reef Yacht's Classic Long Range Motoryacht Series, ranging from 63' – 115', as well as the newly launched Outer Reef Trident Series ranging from 55' - 75', are built for the convenience of the owner-operator. Also, all Outer Reef Yachts are built to Ocean, Category A Standards, "Unrestricted Navigation," for stability and safety. Most importantly, the company takes pride in providing a global network of sales and service representatives who strive to provide superior customer service and support from the initial planning stages, through the delivery of your vessel, through formulating a plan for your next yachting chapter.


Featured Boat
44' Outer Reef Nautilus 440
2016 Call for Price

The new Nautilus Series presented by Outer Reef Yachts will be European built and CE Certified, designed by award-winning yacht architect Ward Setzer as a genuine motor-power catamaran. As the first of the series, the Nautilus 440 is expected to set a new standard for superior performance, stability, efficiency, and overall comfort. Specifically, the series will surpass all competition in regards to efficiency, at both low and high speeds due to unique features including a semi-planing underwater form rising to asymmetric hulls, a plumb bow, and Cummins POD Common Rail engines. With generous wing deck clearance (1m) and a remarkably flat attitude throughout her speed range, the Nautilus 440 will offer a velvety smooth ride even in heavy seas.

As the newest addition to the Outer Reef family of cruising yachts, the Nautilus 440, as a production series, will introduce a fresh approach to yachting that can be enjoyed by owners globally, without sacrificing Outer Reef Yacht's demonstrated ability to create a localized, tailored cruising experience. The owner's journey will be made most comfortable by a substantial interior space offered by the Nautilus 440, due to by her beam of 22' 7" (6.9 meters) overall which creates a flow through main salon design, and an ample and comfortable living environment totaling nearly 1,246 square feet (116.3 square meters).