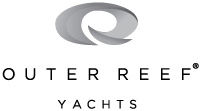 Welcome to Outer Reef Yachts
As a leading manufacturer of long range motoryachts, Outer Reef Yachts combine excellence in building robust, blue-water yachts while offering luxury, efficiency, and technological ingenuity. Outer Reef Yacht's Classic Long Range Motoryacht Series, ranging from 63' – 115', as well as the newly launched Outer Reef Trident Series ranging from 55' - 75', are built for the convenience of the owner-operator. Also, all Outer Reef Yachts are built to Ocean, Category A Standards, "Unrestricted Navigation," for stability and safety. Most importantly, the company takes pride in providing a global network of sales and service representatives who strive to provide superior customer service and support from the initial planning stages, through the delivery of your vessel, through formulating a plan for your next yachting chapter.


Featured Boat
86' Outer Reef Yachts 860 DBMY
2016 US$ 5,805,000

PRELIMINARY LISTING - SUBJECT TO CHANGE

Extended cruising in luxury and safety is the basic concept for an Outer Reef Yacht. All Outer Reef Yachts are built to open Ocean Category "A" (wave heights 18-20' and sustained winds of over 40 knots. This 86' Outer Reef is a true bluewater cruiser, powered for fuel economy and long range.