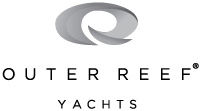 Welcome to Outer Reef Yachts
As a leading manufacturer of long range motoryachts, Outer Reef Yachts combine excellence in building robust, blue-water yachts while offering luxury, efficiency, and technological ingenuity. Outer Reef Yacht's Classic Long Range Motoryacht Series, ranging from 58' – 115', as well as the newly launched Outer Reef Trident Series ranging from 62' - 106', are built for the convenience of the owner-operator. Also, all Outer Reef Yachts are built to Ocean, Category A Standards, "Unrestricted Navigation," for stability and safety. Most importantly, the company takes pride in providing a global network of sales and service representatives who strive to provide superior customer service and support from the initial planning stages, through the delivery of your vessel, through formulating a plan for your next yachting chapter.


Featured Boat
72' Outer Reef Yachts 700 MY
2015 US$ 2,650,000

This 2015 Outer Reef 700 was overseen and completed by the owner of Outer Reef, originally built as a showboat for display at major boat shows. The list of upgrades and redundant systems is more extensive than any previous 700 Outer Reef built to date. Meticulously cared-for yacht in turn-key condition.