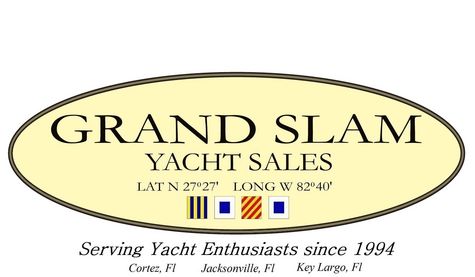 Meet our Team
A native of New England, Frank Joseph, Licensed Yacht & Ship Broker and GSYS President, relocated to Florida's west coast from Southern California (the other west coast) in 2005. Frank is an Alumnus of the Massachusetts Maritime Academy where he obtained a BS in Marine Engineering, sailing endorsements and his USCG engineering licenses. Frank's maritime experience is extensive having sailed on the largest vessels in the US merchant fleet throughout the world.

Frank's combined maritime experience and 15 years of mechanical engineering service for a major petroleum exploration and production company developed his unique credentials and ability to provide value added service for his clients. He is a technical expert in maintenance management and methodologies utilized on today's large commercial and pleasure power vessels. He has the qualifications and desire to assist his clients in all facets of their investment.

Frank is eager to assist clients by responding to their requests promptly and courteously while maintaining the highest ethical standards. He is committed to building long-term relationships with his clients and their vessels. Frank appreciates the importance of creating high customer satisfaction and is committed to developing professional, responsive and long-term relationships with clients, vendors, suppliers and all those necessary for the continued success of GSYS. Feel free to contact Frank @ +1.941.962.5969 or any of the GSYS sales associates for your boat sales and/or purchasing needs.


Alan Pressman, Licensed Yacht & Ship Sales Person
Alan has been finding the right boat for buyers since 1998. He has been representing sellers and assisting them in marketing, pricing and negotiating sales on their own vessels for years.

Initially working in sales and marketing for high performance catamaran manufacturer Horizon Yachts in Charleston, SC, and later, building motor yachts in mainland China for the US market, Alan brings not only solid knowledge of construction, systems and seaworthiness to his position at Grand Slam Yacht Sales, but strong analytical skills to help find the right boat for the right client, and for knowing how to market, price, promote and ultimately close the sale for an owner looking to move up, down or out of his or her current boat.

He knows the importance of working closely with his clients and is committed to helping them make the right decision regarding their boating plans. And he is with his clients for the long haul well after the sale is concluded and the boat leaves the dock.

He has sold both new and brokerage boats over the years. He most recently worked in Florida for the Island Packet, Catalina and Hunter dealer and prior to that spent many years selling both Island Packet Yachts and Sabre Sailing Yachts with Florida's longtime Island Packet/Sabre dealer. He brings substantial knowledge and experience of both coastal cruising and bluewater performance sailing to Grand Slam Yacht Sales.

Alan and his wife have owned and cruised on both sail and power boats throughout Maine and New England waters during the summer months, and Florida and the Bahamas in the winter. He has owned Hunter, Catalina, and Sabre sailing yachts, as well as several power vessels.

"Sail is probably my preferred choice for cruising but anything that gets me on the water will do the trick!"

Four time Commodore of the Sarasota Sailing Squadron, Alan volunteers his time to help keep the "Greatest Sailing Club in the World" operating and getting folks on the water affordably. "With over 800 members, this can be challenging at times."

Alan's motto; "Fun is Good".

His favorite quotations;

"The secret of life is honesty and fair dealing." Groucho Marx

"I'd never be a member of any club that would have me as a member." Groucho, too!

Take a look at our Testimonial Page and see what Alan's clients are saying about him.
alangsys@gmail.com 1.941.350.1559


A Florida native, Captain Wayne's entire life has evolved around the water's of Florida. Growing up on the Tampa Bay, Wayne has been selling new and brokerage yachts since 2004 full time and prides himself on building long term relationships with his clients. In addition to selling yachts, Wayne is passionate about tournament fishing, and is the owner of a charter fishing company.

Captain Wayne's experience in the marine industry began in 1996 where he was involved with many manufacturing companies including Chris Craft Boats, Wellcraft Marine, Intrepid Power Boats, and Manta Catamarans. In 2004 Captain Wayne moved from the manufacturing side of the business to retail sales; selling new Chris Crafts, Dorals, Four Winns, and Everglades in Fort Lauderdale; 2 years of new boat sales evolved into the brokerage business, listing and selling previously owned power and sail vessels in addition to new inventory.

Whether purchasing your dream yacht or selling your existing yacht, Captain Wayne's integrity and experience in all facets of the marine industry will be a great asset in getting your goals accomplished.

Captain Wayne is a Licensed US Coast Guard Captain and the owner of Extreme Flats Fishing. Captain Wayne has had a passion for the water since a child and enjoys everything from seeing a novice fisherman catching giant Tarpon to children catching there first fish. Extreme Flats Fishing is located at the Regatta Point Marina; fishing the Tampa Bay, one of the finest fisheries in Florida. You can visit the Company's website at www.extremeflatsfishing.com.

"My biggest motivation is creating positive experience while brokering your vessel, pursuing a new or used yacht for you or as a charter captain! To each individual client these are all big events. From a child catching there first fish, a novice hooking up on a big fish, finding your first vessel, moving up or down in your yacht ownership, or even out of boating; these are all experiences in life that everyone deserves to be positively memorable!" Captain Wayne

My passion is working for you to make it as simple as possible; when boating is in your bloodline you deserve a positive experience without hassle!

Jim Booth, Licensed Yacht & Ship Broker, grew up in Bay Village, Ohio right on the shores of Lake Erie. He began boating at a very early age and owned his own 19' Lyman when he was fifteen. Jim raced sailboats at the Cleveland Yacht Club during high school and college. With his parents and sister Jim enjoyed the family's 36' Chris Craft during the summer months. Jim and his wife continued the family boating tradition with their own five children boating in the waters off Sandusky, Ohio and the Erie Islands.

Jim holds a US Coast Guard Master 100 ton Captain's license and has extensive experience on both coasts of the US, the Ten Tom, the Erie Barge Canal, Canada and the Caribbean.

Jim has served on a number of Marine Association Boards. He is an active professional member of the Florida Yacht Broker's Association. He feels it is important to support these organizations and help them address the issues important to our industry.

Jim has experience selling both power and sail (Bayliner, Ocean, Silverton, Mainship, Luhrs, Hunter). He has many years of experience in the yacht business and has held senior management positions throughout his career. He has worked with boat manufacturers (Navigator Yachts) building California Yachts 37' to 63' and he has supervised the building of custom yachts built in Taiwan (Symbol Yachts, Jefferson Yachts) up to 80'.

Over the years Jim has earned a reputation of being a very honest person with whom to do business. He says the most rewarding thing is all the outstanding people he has had the pleasure of helping to buy, sell or build boats. He continues to believe that boating is a family sport and it is important for all of us in the industry to help promote this valuable, enjoyable tradition.

Jim Booth jboothyacht@yahoo.com +1.904.652.8401


A native of Florida, Mike Brooks has over 40+ years of experience in and around Florida waters.

Mike served with the U. S. Coast Guard as an Aviation Survival man and flew in both C130s and H-52 helicopters. He has had many exciting search and rescue experiences.

His love for the water and boats has taken him around the U. S. and Hawaii. Mike has had a captain's license for over 20 years and has worked on everything from water taxis to tugboats to dinner cruise boats and private yachts. Mike has been in boat sales for over 12 years and has represented new boat manufacturers as well as used vessels up to 100'. His extensive knowledge of new and used vessels can help you with your selection of the right boat for you.

Married and now living in Georgia, Mike looks forward to working with each new client to help them in the selection process of their boat. Let him put his years of experience to work for you. Feel free to contact Mike at 904-219-0651 about any of your boating or purchasing needs.

Mike Brooks boatwish1@aol.com +1.904.219.0651

Hank, Licensed GSYS Boat Mascot and Certified Water Dog
We adopted Hank in 2006 from the Florida Lab Retriever Rescue. He is a true partner and always ready to greet new friends. Even in these trying ecomomic times, we still find it hard to believe that there are so many animals that need our help. Organizations such the Florida Lab Retriever Rescue are fully staffed by volunteers and are always in need of any help or supplies. Please visit their website and provide any support you can.

They can be reached Labrador Retriever Rescue of Florida, Inc.