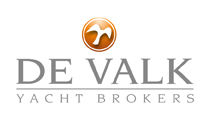 Offices
De Valk International
't Breukeleveense Meentje 6
PO Box 33
Loosdrecht, Netherlands 1230 AA
Tel: +31 (0)35 5829010
Fax: +31 (0)35 5829019
Email: Email us


In the centre of Holland, surrounded by beautiful lakes, De Valk chose the perfect location to start a brokerage business over 30 years ago. Today De Valk Loosdrecht is an international brokerage house handling the sales of motor yachts ranging from 10 to 25 metres.

De Valk Loosdrecht
't Breukeleveense Meentje 6
Loosdrecht, Netherlands 1231 LM
Tel: +31 (0)35 5829030
Fax: +31 (0)35 5829039
Email: Email us

De Valk Loosdrecht, a toplocation, where buyers meet sellers. Due the covered 5.500 m2 'in water' showroom selling the whole year round. All services in house!

De Valk Sneek
Zwolsmanweg 7
8606 KC Sneek, P.O. Box 127
8600 AC Sneek, Netherlands
Tel: +31 (0)515 42 80 30
Fax: +31 (0)515 42 80 39
Email: Email us

Based in the bustling Friesian lake area, De Valk's newest brokerage location specialises in motor yachts from approx. 10m upwards. Our covered sales marina (with seven meter vertical clearance) offers well-equipped berths for at least 32 yachts, with another 30 berths outside.

De Valk Monnickendam
Hoogedijk 6
Katwoude (Monnickendam), Netherlands 1145 PM
Tel: +31 (0)299 656350
Fax: +31 (0)299 656341
Email: Email us

As a brokerage house, De Valk Monnickendam benefits from both an excellent location just 20 minutes away from Amsterdam and a well-equipped marina. Equally important are the longstanding relationships developed by our dedicated crew with a national and international client base.

De Valk Zeeland
Koelhuisweg 4
4697 RM
Sint Annaland, Netherlands
Tel: +31 (0)166 - 601 000
Fax: +31 (0)166 - 654 267
Email: Email us

One of the leading brokers in the South Western part of the Netherlands, De Valk Zeeland is ideally located for visitors from Belgium, Germany and the UK. Our strength lies in bringing buyers and sellers together with a "personal touch" tailored to your specific needs.

De Valk Hindeloopen
Oosterstrand 1
P.O. Box 16
Hindeloopen, Netherlands 8713 ZG
Tel: +31 (0)514 524000
Fax: +31 (0)514 524009
Email: Email us

Hindeloopen is a famed gateway to blue water, with the Kornwerderzand locks providing access to the Wadden and North seas. Here on the IJsselmeer coast, the De Valk office is located in one of Northern Europe's largest marinas, home to an extensive range of yacht related services.

De Valk France
2, Avenue de Verdun
06600 Antibes, France
Tel: +33 (0)492 91 0202
Fax: +33 (0)492 91 0301
Email: Email us

Antibes is considered to be one of the world's major yachting capitals, home to some of the largest superyachts in the Mediterranean. De Valk has been here on the Côte d'Azur for more than 15 years, offering services in French, English, Dutch, German and Italian.


De Valk Palma
Paseo Maritimo 44
07015 Palma de Mallorca, Spain
Tel: +34 971 402911
Fax: +34 971 402760
Email: Email us

De Valk Spain has a prime, central location at the 600-berth Club de Mar marina. Five experienced staff offer a personal service to our international clientele in English, German, Spanish, Dutch, Swedish or French.