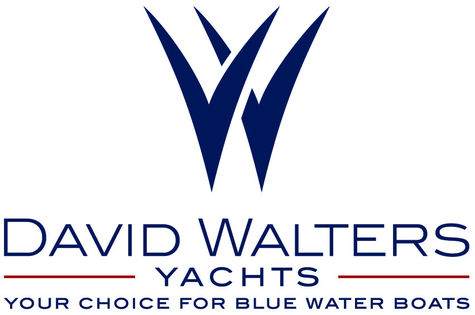 Welcome to David Walters Yachts
David Walters Yachts was established to assist buyers and sellers with quality sail and power brokerage and new yacht services with over 200 years combined years of yacht design, building and brokerage experience. Our experienced brokers are uniquely qualified to assist clients in all aspects of purchasing or selling their yachts. Dave Walters is well known over 45 years in the industry as a boat builder and then as a very talented yacht broker. He personally has coordinated sales of hundreds of yachts in North and South America, Europe and Asia and his yacht building companies produced some of the highest quality semi-custom designs. After 40 years of owning and running David Walters Yachts it was time to hand over the helm.

The President of David Walters Yachts is Josh McLean. Dave has personally groomed Josh McLean for the past several years to enable him to easily hold the course and he has proven he can get the ship moving even faster. Josh McLean is at the headquarters of David Walters Yachts at 777 SE 20th Street Suite #255 in Fort Lauderdale. He is growing the ledgendary brokerage into a new powerhouse of a company as you can see from the amazing listings at three locations. Reach Josh at josh@dwyfl.net.

The Newport RI Office is headed up by John Osetek. John has been a professional yacht broker in New England for many many years and worked at Alden Yachts building some of the worlds most beautiful sailboats for ten years. In new england and across the world, Jon Osetek needs no introduction. The Newport, Rhode Island Office serves the Northeast US. You can reach John Osetek at otek@dwyfl.net.

Annapolis Office - RogueWave Yacht Sales of Annapolis MD merged with David Walters Yachts in May of 2017! Now the RogueWave Division of David Walters is in Annapolis MD, the Sailing Capitol of the World! RogueWave has and always will be Your Choice for Bluewater Boats! Kate Christensen and Bernie Jakits and the rest of the Annapolis team are here to serve our clients at Port Annapolis Marina, 7080 Bembe Beach Road, Suite 111, Annapolis MD 21403. Ph 410 571-2955. Reach Bernie at bernie@dwyca.net.

David Walters Yachts is proud to have assembled a team of expert yacht brokers with over 200 years of combined experience in three locations on the east coast and soon to open an office in Santa Barbara CA. Josh McLean, George Eberhard, Lori Goldstein, John Osetek, Bernie Jakits, and Kate Christensen and the rest of the team look forward to providing professional services with the assistance of the very experienced office staff that is managed by Amanda Noon and Betsy Walters in Fort Lauderdale and Diane Ilg in Annapolis.

Email: Sales@dwyfl.net
Website:www.DavidWaltersYachts.com


Featured Boat
62' Hallberg-Rassy 62
1998 US$ 750,000

COMPLETE REFIT COMPLETED IN 2016

IMMACULATE CONDITION & READY FOR WORLD VOYAGE

Few yards have earned such a renowned reputation and global acclaim for building world-class cruising yachts as Hallberg-Rassy. Showcased as the "Flagship" yacht of their fleet when first introduced the Hallberg-Rassy 62 has won numerous awards to include the "Import Cruising Boat of the Year" by Cruising World Magazine and "Yacht of the Year" in Germany.

BIZ is the embodiment of elegance, solid construction, and extraordinary sailing ability. Designed to be easily managed by a cruising couple, this yacht incorporates a logical layout, an effortlessly managed yet powerful sailplan, and unparalleled quality. The very light and airy interior has a modern contemporary design with a luxurious main salon, three well appointed cabins plus passageway bunks, three heads, and a spacious galley. The interior is all on one level to allow for easy movement about the cabins and no steps to worry about when offshore.

BIZ is Hull # 2 and has seen exceptionally light use, her machinery has very low hours and has been professionally maintained and rigorously inspected since new. Immaculate does not even begin to describe her condition. Having spent a number of years on display in a Hallberg-Rassy showroom before being completely refit and updated in 2016 by her current owner, this is a yacht that quite simply put, will astound you. Nothing was left to compromise!

Awarded the 2016 ARC+ "Most Beautiful Yacht"

EXTENSIVE REFIT COMPLETED IN 2016
NEARLY EVERY SYSTEM UPGRADED!
NEW Main & Genoa by Northsails
NEW Paint & Fittings on Mast & Boom
NEW Carbon Fiber Spinnaker Pole

NEW Running Rigging
NEW B&G Plotters, Radar, Sonar, and Radios
NEW Mastervolt Electrical System - Mastervolt Installed!


NEW House, Engine, & Auxiliary Batteries

NEW Broadband Internet and Satellite Communication Equipment



NEW Deck hatches and Portlight Windows
NEW Simpson Dinghy Davits
NEW Dinghy & Outboard
NEW Canvas Bimini, Sprayhood, & Hatch Covers
NEW Bow Thruser
NEW Thruhulls & Seacocks

NEW Hydraulic Lines
NEW Flexible Solar & Water Generator
NEW LED Lighting Below & Above Deck
NEW Entertainment Systems - TV's, Stereos, Speakers
NEW Electric Flush Toilets

NEW Galley Appliances

NEW Washing Machine


NEW Upholstery, Mattress Toppers, & Curtains

NEW Fixtures in All Cabins, Heads, Main Salon
NEW Salon Carpeting
NEW Safety Equipment - EPIRBS, PLB, Liferafts, & More!