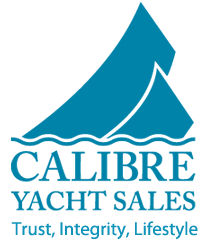 Testimonials

We bought our lovely 1998, 42 Kadey-Krogen, Widebody from Calibre Yachts in Nanaimo in February of this year.

Rob Ksyniuk was the sales representative we dealt with throughout this experience.
He is very respectful, and has an easy going manner, and we were made to feel very comfortable in the process of negotiation and purchase of our boat.
It was a big deal for us because we only dreamed we would have a boat like Natural Selection one day, and here we were making our dream a reality.
Both Rob and Richard are honest, knowledgeable and kind people, and we felt very looked after.
They went beyond the sales agreement and did a few extra things that showed us that they cared more for us than just making a sale. It was said and proven that they are more interested in developing a relationship, and that they will be there long after the sale is complete.
Rob even had a coat made with the Calibre Yachts symbol embroidered into it for our beloved ship mascot, our black pug, Sydney.
Thanks Rob! I think you will agree by looking at the picture that she look adorable!
We could not be happier.
Our boat is our home now and we are in love...thanks for everything!

Your friends,

Jeanette and Barry


Hi Robert

Our friends greeted us with Champagne as we pulled up to the dock in our beautiful 39 ft. carver. We want to thank you for the excellent service you gave us, you truly went "above and beyond" in making the whole purchasing process go smoothly and quickly We will certainly recommend you to anyone we know who is thinking of buying or selling a boat.
Thanks so much,

Sandy & Dennis Goosen.


Hi Rob,

My wife and I wish to Thank You for your help with the purchase of our new 30' Commander "Blue Heron". It was our first experience working with a Yacht broker and appreciate your guidance through the many steps involved in the process. Owning a 30' Commander has been on our "bucket list" for over 10 years now and we are very pleased and excited the Blue Heron became available. It is quite evident the previous owners took pride in their "Blue heron" and cared for it meticulously. I can assure them their Blue Heron has gone to a great family who will continue to appreciate its beauty and craftsmanship . Thank you again for your help in making our dream a reality.

Best regards,
Ken and Tricia Kienzle


Jeff,

Dianne and I just wanted to drop you a note let you know everything has gone extremely well with the boat and all the processes to bring her into the U.S. Once again, thank you for your services in this buying experience. We have used other brokers over the many years we have had boats but your service has been the best.

Ron & Dianne Fry Anacortes, WA






Loved working with Richard from Calibre Yachts. He nursed me through all the things that I needed to know about purchasing a boat and guided me to a choice that was ideal for our special circumstances. He came with us on multiple trips to Washington, from where we finally purchased our 1989 Nordic Tug.

He more than earned his commission. Richard is more like a father than a broker. We love the Tug, giving up speed for comfort. Right decision.

Michael Klein, MD



After much discussion my Wife and I had decided to try and sell our boat that we had owned and enjoyed for the past 12 years. A friend recommended Calibre Yachts to us. His research had found that they were selling boats despite the difficult economic environment.
We met Richard Evans when he came to evaluate our vessel. We were impressed with his enthusiasm and professional manner.
He had a 37' Tollycraft already listed for sale and this was just what we were looking for. Within 6 weeks Richard and his team had found a buyer for our vessel and we were proud Tollycraft owners.
Richard's guidance through the survey, purchase and transfer process was invaluable. I would not hesitate to recommend Calibre Yachts to any one looking to buy or sell a boat. Thanks Richard you are a class act!

–Jim and Avon Dykeman MV Avonski North Vancouver, BC


I chose Richard Evans as my yacht broker because of his knowledge of Camanos and his experience.

I was immediately impressed with the speed of his response to my initial inquiry. My boat was listed the very next day. In addition to giving me advice on how to prepare for a showing he arranged the survey and the necessary mechanical repairs in short order. Listing a boat just prior to a major recession required a lot of patience. Throughout this time Richard remained calm and encouraging. Although I needed to keep the boat clean for showing, he had to put in a lot of time with prospective buyers. It could have been very frustrating but I knew I was in good hands. His final marketing push involved taking her over to the Nanaimo Boat Show and spending the whole weekend aboard extolling her virtues.

When the offer came, Richard expertly walked me through the process in short order and then co-brokered the purchase of my new sailboat. Even though all this occurred while he was about to take a much needed vacation, he continued to keep in touch and coordinate the necessary procedures. One would assume that was the end of it but no, Richard came down to help me celebrate with a bag of very nice gifts!

I highly recommend Calibre Yacht Sales and Richard Evans to anyone who wants to sell and/or buy the boat of their dreams!



Dear Richard, We regret this "thank you" is so overdue, but we've been so busy (and happy) on our new boat. What fun!

We are so thankful to have had you on our side as our broker. What a stroke of luck that we met you. Your absolute honesty, boat knowledge and kind and gentle manner were extraordinary. Your suggestions as to tradespersons were very helpful - we liked them all and will continue to use them.

Best of luck in the future - you know we'll be telling everyone how delighted we were to have dealt with you.

Sincerely, Jack and Jennifer