Hatteras Yachts
Used Hatteras Yachts & Sportfishers For sale
For almost two decades, Ballast Point Yachts, Inc. has been helping clients buy and sell used Hatteras Yachts in San Diego and throughout the west. We are your one-stop source for buying, selling, transporting and servicing used Hatteras Sportfishers. We will expedite the search, acquisition, inspection, titling, insurance and delivery of the Hatteras Yachts Convertible or Open model of your choice from our San Diego office. Our Hatteras Yachts buying service is designed to minimize the hassle while we protect your interests. Best of all, our buying services and expertise are free to Hatteras Yachts buyers.
| | | | | | |
| --- | --- | --- | --- | --- | --- |
| Make | Length | Model | Model Year | Inventory Now Available | Request Details |
| Hatteras Yachts | 35' – 40' | Flybridge & Express | 1998 and newer | Yes | Email Us |
| Hatteras Yachts | 41' – 45' | Flybridge & Express | 2000 and newer | Yes | Email Us |
| Hatteras Yachts | 46' – 50' | Flybridge & Express | 2002 and newer | Yes | Email Us |
| Hatteras Yachts | 50' – 55' | Flybridge Convertible | 2002 and newer | Yes | Email Us |
| Hatteras Yachts | 56' -  60' | Flybridge Convertible | 2002 and newer | Yes | Email Us |
| Hatteras Yachts | 61' + | Flybridge Convertible | 2002 and newer | Yes | Email Us |
Need to Sell Your Hatteras? Use the Hatteras Yachts Experts!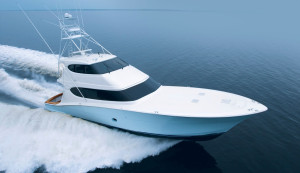 As one of the top performing yacht brokerage firms in San Diego, we know what it takes to successfully sell a used Hatteras Yachts convertibles and Express boats. We have an aggressive marketing program consisting of Internet, MLS, print media, boat shows, direct mail and yacht broker networking. We have a global presence including the USA, Europe, Latin America, Asia and Australia. Our San Diego office has maintained a concentrated focus on the Hatteras Yachts brand resulting in an accumulation of prospective buyers across the State and around the world. This approach has enabled us to generate quality leads, higher resale values, and to sell our Hatteras Yachts inventory in shorter time periods. And because we don't have the distraction or pressure of selling new boat inventory, we can concentrate our efforts on our first priority – selling used Hatteras Yachts. Contact Ballast Point Yachts, Inc. today and enjoy a hassle free sale of your Hatteras.
Call to Speak to a used Hatteras Yachts Sales Consultant (619) 222-3620 x 1 or Email Us
What's My Used Hatteras Worth?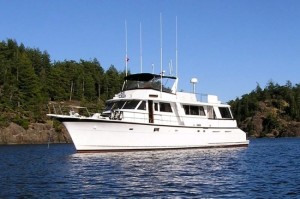 When you have decided to sell your used Hatteras sportfisher, the first step is determining the current market value of your boat. Ballast Point Yachts, Inc. offers a free market value assessment based on the year, model, condition and market demand for your used Hatteras sportfishing yacht. We will reference our private MLS sources to identify competing inventory, recent sales and market trends to give you a comprehensive market overview. In addition to our market value assessment, we can provide service/repair tips and recommendations that will help support the resale value of your used Hatteras yacht. Click below to request a free market value assessment for your used Hatteras.
Call to Speak to a used Hatteras Yachts Sales Consultant (619) 222-3620 x 1 or Email Us
Why Hatteras Yachts?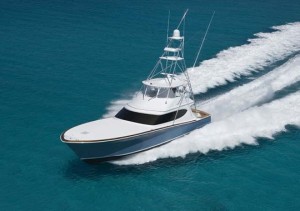 The Hatteras legend began on the barrier islands of the North Carolina shore where the frigid waters of the Labrador Current encounter the tropical Gulf Stream. The outcome is Diamond Shoals - home to some of the most turbulent and untamed waters in the Atlantic and some of the best sportfishing in the world.
Here in 1959 at Cape Hatteras, where nor'easters can blow almost as fiercely as hurricanes, Willis Slane envisioned building a boat that could conquer the waters of Diamond Shoals and surmount the Hatteras weather. It would not be an ordinary boat - no traditional wooden fishing boat could do this. This new boat would have to be rugged and robust to take the pounding of Hatteras waters. But most importantly, it would have to be a great sportfishing boat, big enough to handle a group of avid fishermen and comfortable enough for family back at the dock.
Breaking with all tradition, Slane chose a new material, fiberglass, to build this noteworthy motoryacht that revolutionized the yachting industry. Hatteras produced its first sportfishing yacht on March 22, 1960, in the town of High Point, North Carolina. Christened the Knit Wits, she was a 41-foot twin cabin sportfisherman with a 14-foot beam and a pair of 275-hp Lincoln V-8s. The response was enthusiastic and the Hatteras legend was born.
The market soon demanded bigger boats, and so the Hatteras sportfishing fleet expanded, first to 50' boats and later up to 90' convertibles. Hatteras also began designing and producing a line of cruising yachts that now ranges from 63 to 110'+ in length.
Call to Speak to a used Hatteras Yachts Sales Consultant (619) 222-3620 x 1 or Email Us
Hatteras Yachts Today
Hatteras Yachts carries forward decades of rugged durability. Focused engineering, tough materials and proven construction processes come together to produce the legendary strength that is the backbone of the Hatteras story. From a solid fiberglass bottom to the final coat of exterior paint, each Hatteras is built to excel in the roughest seas and harshest environments while retaining superior performance and beauty. Such dependability allows owners to use their boat when they want to, not just when conditions are favorable.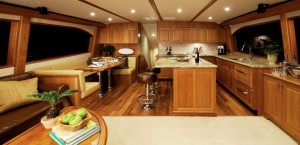 When it comes down to it, what is power without off shore performance? Advanced hull designs and construction, efficient propulsion systems, and optimized weight distribution merge to form the perfect balance of speed and seakeeping that can only be offered by Hatteras.
Each vessel is designed and built for class-leading performance in all currents, seas, and weather. Hatteras has earned a reputation for confident seakeeping, responsive handling and nimble maneuverability in the worst conditions.
A half century of experience has developed a tenured team of master builders and personalized construction managers, responsible for delivering luxurious craftsmanship. Traditional skills coupled with modern techniques enable customization and relentless improvement. Tailored designs and luxury materials in the hands of our experienced builders result in each new vessel being a showpiece for the customer and the brand.
Call to Speak to a Hatteras Yachts Sales Consultant (619) 222-3620 x 1 or Email Us
The Most Popular Hatteras Models:
Hatteras 39 Sport Express
Hatteras 46 Convertible
Hatteras 50 Convertible
Hatteras 52 Convertible
Hatteras 54 Convertible
Hatteras 55 Convertible
Hatteras 58 Convertible
Hatteras 60 Convertible
Hatteras 65 Convertible
Hatteras 68 Convertible
Hatteras 70 Convertible
Hatteras 77 Convertible
Hatteras 82 Convertible
54' Hatteras Yachts GT Convertible Review
by Marlin Magazine
Hatteras exited the economic morass of recent years when introducing three all-new models in what it calls its GT series: a 54, a 60 and a 63. Interestingly, when spinning on a fish, the GT54 turns virtually as quickly without as it does with rudder. Backing down proved most impressive, with a speed of 9½ knots in reverse before a drop of water came over the transom. When it did, the innovative scupper design emptied the cockpit quickly. These scuppers drain straight through the outer hull, but they are hidden in profile as the water exits out the aft end of the splash/rub rail.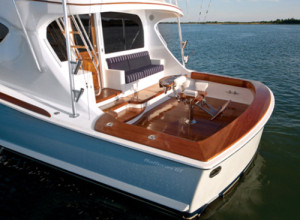 When turning, a mechanical differential-steering system turns the inboard rudder more than the outboard rudder, thereby creating a tighter turn. Overall, turn response qualifies as completely predictable, and that's high praise.

During what we hoped was the last cold front of the year, winds blew in from the north at 20 knots, generating 3- to 4-foot seas nearshore and quickly building to 8 to 10 feet just a short way out. I didn't envy anyone trying to cross the Gulf Stream with that stiff north wind opposing the strong southerly current.

Cockpit
The cockpit space easily accommodates two anglers plus three mates with nary a conflict, even with the Pompanette fighting chair in place. Hatteras provides plenty of storage under the gunwales and under the seats on the mezzanine. In fact, I counted 22 standard-issue rod holders around the cockpit.

You'll find plenty of cooler and freezer space in the mezzanine, along with an Eskimo ice maker dump and other refrigerated spaces. What I especially like is that Hatteras glasses the chill coils into the resin-infused boxes, so you never need to worry about plates or damaging coils.

Interior
The overall flavor of the interior is very simple, but elegant luxury, thanks especially to the flawless woodwork. Huge windows afford a view of the outdoors whether seated or standing, and they're so big that they provide exceptional ambient lighting in the salon. The interior is strikingly different from traditional styling, even sporting a small island in the galley. I like the room to move, but would love to see the many sharp granite corners rounded off. Fall against one in a sea and it will surely leave a mark.

Belowdecks, the master cabin to port boasts a queen berth with storage beneath and a private en-suite head with shower. Across the corridor, you'll find the crew's quarters several steps down to some fairly tight single berths. An option exists for adding a third single pullman berth. The forward cabin sports a very nice island double, again with storage beneath and plenty of ancillary storage as well. The crew and the guest cabin share a "day head."

Engine Room
You enter the engine compartment via the centerline hatch in the mezzanine. Once inside, I found it slightly snug between the engines. But, as a consequence, it's remarkably roomy outboard of the engines - though Hatteras avoided giving you any reason to venture out there on a regular basis.

Overall, this boat performed in truly adverse conditions with remarkable grace. Inside, it feels bigger than its size, and running, it still feels small and responsive. Hatteras pulled off quite a trick, eh?

Specifications

LOA......57'2"
BEAM......17'3"
DEADRISE......16 degrees
DRAFT......4'2"
WEIGHT......75,000 pounds
FUEL......1,200 gallons
MAX POWER......Twin 1,600 hp Cat C-32 diesels

Call to Speak to a used Hatteras Yachts Sales Consultant (619) 222-3620 x 1 or Email Us


The boats shown here may be subject to an exclusive listing agreement with another broker and may not be offered for sale by Ballast Point Yachts, Inc. Ballast Point Yachts, Inc. is merely providing this information in an effort to represent you as a buyer in the purchase of this vessel.