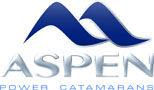 Welcome



The Aspen's Patented Power Proa Hull offers the softest ride, best fuel economy and accommodations of her class. Aspen's robust hull is designed to slice through heavy seas without hesitation and to track as if on rails. Her high catamaran tunnel provides extraordinary sea worthiness, stability, and contributes to her dry ride. But above all seriousness of purpose, there is a wonderfully romantic, emotional element to the boat that strongly attracts, in a no-nonsense way. Easy to operate, easy to own: it's surprisingly bright and spacious with a large galley and dinette, double helm seats, king mattress stateroom and en suite head. It's no surprise, our owners use their boats more than any of their previous boats. When you purchase from Aspen Power Catamarans, you get much more than a boat, You get a lifestyle. Imagine.

Designed by Larry Graf and his engineering team with more than 30 years of combined catamaran design and cat boating experience, you can be confident the construction details are just right. We understand your goal is a relaxing, adventuresome, comfortable boating experience. In many ways, the Aspen Power Cat is the perfect balance for the environment; comfort and efficiency.



Featured Boat
32' Aspen Power Catamarans C100 Escape
2017 US$ 289,800

The new 32' C100 Escape has the same cabin, salon, and components as our current C90, but; it is 4' longer in the cockpit. Ideal for fishing and entertaining, this area will includes several standard features that are not available in the C90. It has a built-in 96-qt. Igloo Cooler with cockpit seat, extra lazarette storage, a refrigerator and a sink. The Volvo D3 220HP is the standard engine package. Due to the extension, the engine is under the cockpit instead of inside under the salon. Cruising in the C100 is much quieter with the engine placed under the cockpit.


Key Features:
• Faster than the C90, with top speed of 25 mph.
• Still very efficient especially at C90 cruise speeds.
• The boat is trailerable (10' beam), current hull was simply extended.
• Overall length will be 34'.
• Built-in spray rail eliminates current SS spray rail on C90.
• Extra 4" in tunnel clearance, increased "suspension travel" for rough water.